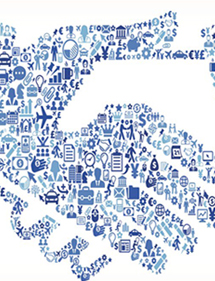 Communication and collaboration
During the 11th 5-year Plan, based on the principle of "seeking support, entering the mainstream, expanding influence," our School has actively promoted the academic exchanges and international cooperation. On the platforms of "Governance and Sustainable Development Series Forum" and "Higher Education Development Forum", we have held nearly a hundred high-level seminars successfully. In 2011 we invited professor Ostrom, the winner of Noble Laureate in Economics, and more than 30 foreign experts of Transparency International to deliver addresses. And we also push the joint research projects with international organizations, such as "China-U.S. Comparative Study of Government's Organizations and Operations" and "Universities and Regional Economic Development" with British government. In the 17th session of the International Emergency Conference and other annual academic meetings we presented reports to the assembly.
Our School has strengthened the active cooperation with world-class universities at the United States, Europe, and Asia via various channels, such as conferences, meetings, collaborative research, exchange of teachers and students, and joint training of doctoral students which have actively promoted the mutual recognition on curriculums.